Law Firm Website Design Best Practices & Examples
As the legal industry continues to grow and evolve, creating an effective website for a law firm is increasingly important. It is often the first impression a potential client will have of a law firm, and it is essential to ensure that the website effectively communicates the firm's message and services. In this article, we will discuss the key things to consider when designing a website for a law firm, along with examples of some highly effective and professional websites in the legal industry.
Make the most of your lawyer bio pages.
When creating a website for your law firm, you should make sure to leverage your attorney bio pages. These pages are an important part of your lawyer website, as they provide potential clients with information about the lawyers in your firm. You should make sure to include bios for each of your attorneys, as well as any relevant information about their experience, education, and practice areas. You should also include photos of your attorneys, as this will help potential clients to feel more connected to your firm. Additionally, make sure to include contact information for each attorney, such as their email address, phone number, LinkedIn account. This will make it easier for clients to get in touch with the right person.
Another important thing to include in your attorney bio pages is information about any awards or recognition that your attorneys have received or any relevant articles or publication that your attorneys have written. This will help to demonstrate to potential clients that your attorneys are well-respected and experienced in their field. Finally, don't forget to include any relevant professional associations that your attorneys belong to. This will help to demonstrate to potential clients that your attorneys are actively engaged in the legal community.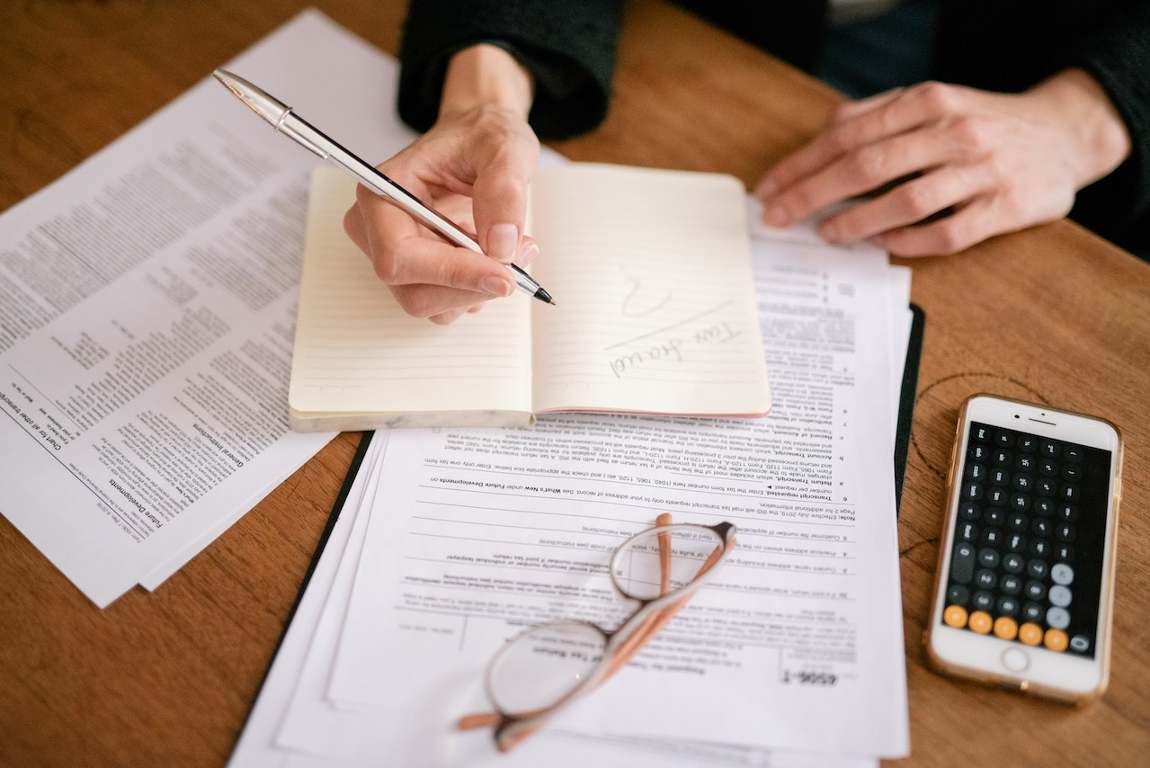 Come up with new ideas but don't go to extremes.
When creating a website for your law firm, it is important to come up with new ideas and be innovative, but don't go to extremes, so that point in the middle is the perfect spot. Law is a competitive field, so it is important for your website to stand out from the competition. However, it is also important to find a balance between simplicity and familiarity. The site should be easy to navigate and understand, while still being visually appealing and modern.
One way to achieve this balance is to use a simple, professional design. For example, you could use a design similar to the one used by law firm company Vela Wood. Their website design is modern and professional, while still being easy to understand and navigate. Additionally, you could use a variety of colours and fonts to add visual interest to your website. However, don't make the mistake to use colours and fonts that make the content difficult to read or are distracting.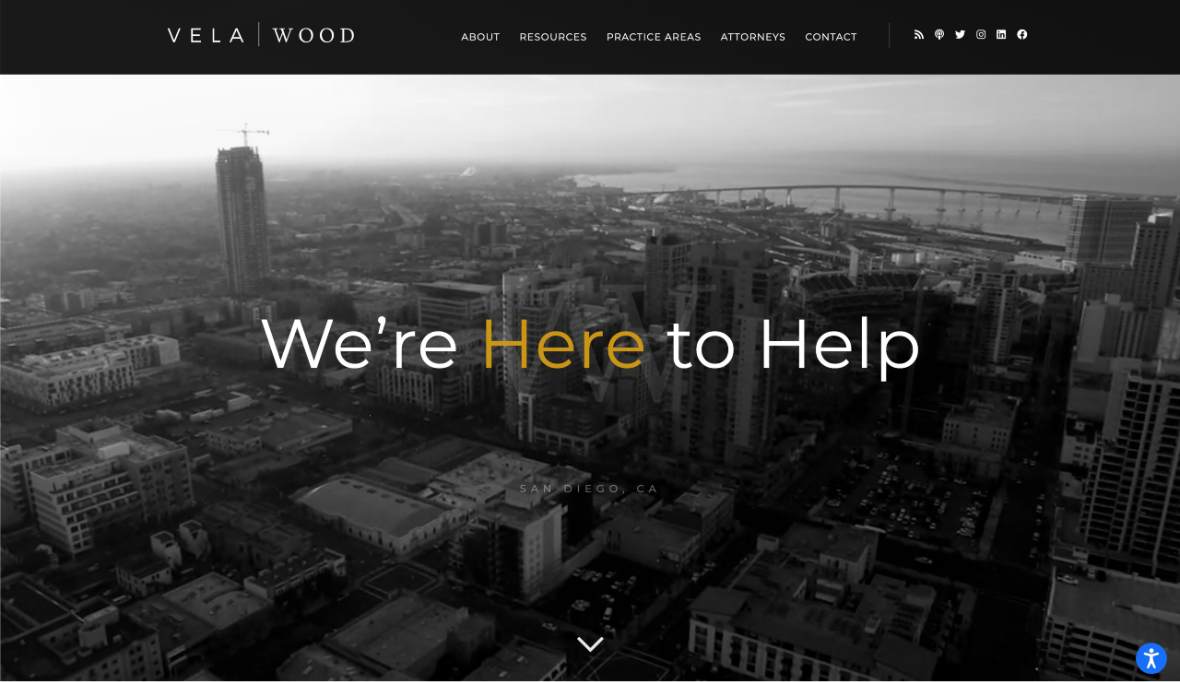 First impressions of your law firm web design is important.
When a potential customer visits your website, their first impression will often be the deciding factor as to whether or not they will stay and explore your website further. When creating a website for your law firm, it is important to have a solid web design following the latest standards. First impressions matter, and potential clients will be more likely to trust your firm if your website looks professional and modern. One way to ensure that your website looks up-to-date is to use a simple and professional design. A great web designed website will create an inviting atmosphere and make it easy for visitors to navigate your site and will make it stand out from the other law firm websites. Better website design, better first impressions.
Additionally, it's paramount to use the latest web technologies. Technology is always evolving, and by taking advantage of the latest advancements, you can create a website that will draw more people in. For example, make sure to use the latest stable versions of PHP and WordPress (if you use WordPress for your site) - this will help your law firm website run more efficiently. Additionally, make sure to use responsive design, which will ensure that your website looks good on all devices, from desktop computers to mobile phones. You don't want your law firm to loose potential clients due to a lack of website optimization.
Utilize videos and video marketing.
Videos and video marketing can be a powerful tool for your law firm's website. Videos can help to engage potential clients and provide them with information about your firm. For example, you could create videos discussing legal issues or giving legal advice. This is a great way to demonstrate your knowledge and experience to your audience. You could also create videos introducing potential clients to your attorneys, which will give the latter a better understanding of who they will be working with.
On top of that, videos can help to keep the visitors on your website longer. This is because videos are more engaging than text, and people are more likely to watch a video than to read a long article. Additionally, videos can help to build trust and credibility with potential clients. For example, you could create a video of a successful case your firm has handled. This will help to demonstrate to people that your firm is experienced and knowledgeable.
One example of a lawyer who uses videos and video marketing is Cheryl Uustal Trial Lawyer. She uses videos to discuss legal issues and provide legal advice. She also uses videos to introduce potential clients to her and her firm. This is a great example of how videos can be used to engage with people and build trust and credibility. Check out her law firm website here.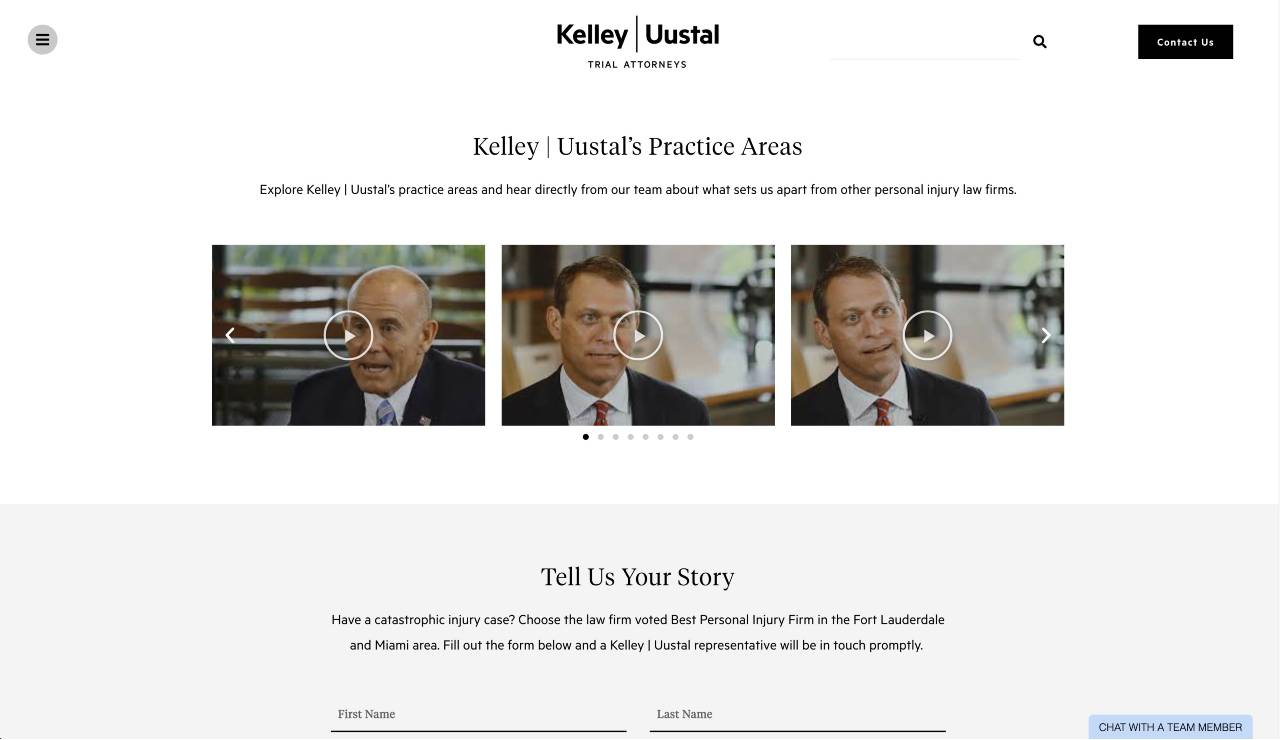 Fast loading speed is key.
When creating a website for your law firm, it is important to make sure that the website loads quickly. The user always expects the site to be loaded in no time, and if your law firm website takes too long to load, potential clients may become frustrated and leave it. Additionally, Google uses page loading speeds to determine mobile results page rankings. This means that if your site takes too long to load, your SEO score will go down. As a result, your site may not rank as highly in search engine results and therefore, your digital presence will be compromised.
There are several web design elements that can affect website loading speed dramatically. For example, always optimize your images. This means to compress them (without loosing quality) so that they take up less space and therefore, load faster. Additionally, it's a good practice to minimize the number of plugins and scripts that you are using. This will help to reduce the amount of code that needs to be loaded and will help to speed up your law firm website.
Make it a habit to check your website speed regularly. You can do this through an online application such as PageSpeed Insights. This application will analyze your website and provide you with a score that indicates how quickly it is loading. Additionally, the app will provide you with suggestions for how you can improve your site's loading speed.
And since website speed is paramount for any website, our team from Integral Web Designs managed to achieve a stunning score of 97 out of 100 on our own website.

Don't forget about accessibility.
One-fourth of Americans have disabilities, so when creating a website for your law firm, it is important that it is accessible to everyone. Accessibility is becoming increasingly important to search engine rankings. This means that if your website is not accessible, it may not rank as highly in search engine results.
One way to check if your website is accessible is to use an accessibility tool like WAVE. This tool will analyze your law firm website and provide you with a score that indicates how accessible your website is. Additionally, it will provide you with suggestions for how you can improve it's accessibility.
Another way to make sure that your website is accessible is to use ARIA. ARIA is an HTML mark-up specification that assists screen-readers in the process of accessing website content. This means that if your website is using ARIA, it will be easier for screen-readers to understand and access your website content.
Social proof is essential.
It's paramount for lawyers websites to provide social proof that builds trust and credibility. For example, Staveer accident lawyer has a solid experience in handling personal injury cases. They have included testimonials from past clients on their website, as well as ratings and recommendations from external websites, media recognition, and Association membership. This is a great example of how to use social proof to build trust and credibility with potential clients.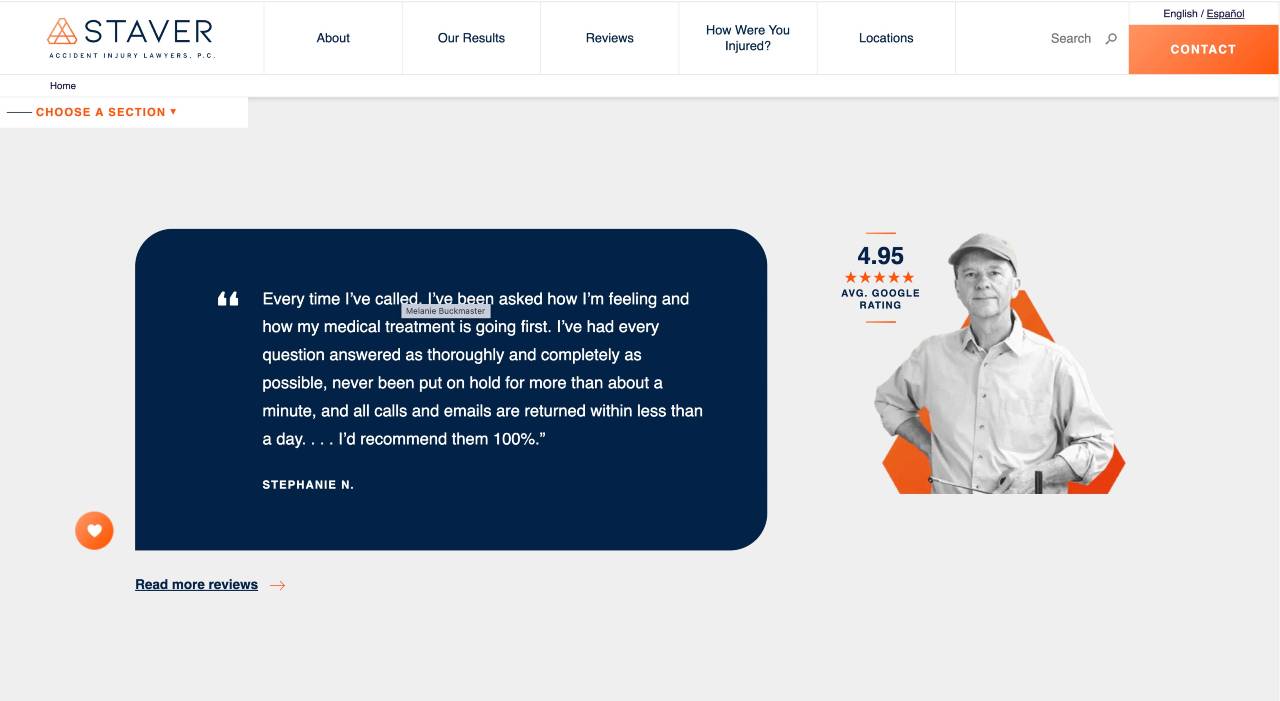 Make sure you are explicit about your practice areas.
Don't forget to always clearly state your practice areas in your law firm's website. Your visitors have one purpose: they want legal support for their particular legal issue. Therefore, it is important for them to easily find what they are looking for.
A good way to achieve that is to highlight your legal services on your website and have clear links within a navigation bar that explain your practice areas. This will make it easier for potential clients to find the information they need. Additionally, you should include information about each practice area, such as a description of the services you offer and any relevant experience or qualifications you have.
For example, the website of Bhatt Lawyers Group has done a fantastic job with their navigation bar, which clearly explains each of their practice areas. Additionally, each practice area has its own page that includes information about the legal services they offer and their relevant experience and qualifications.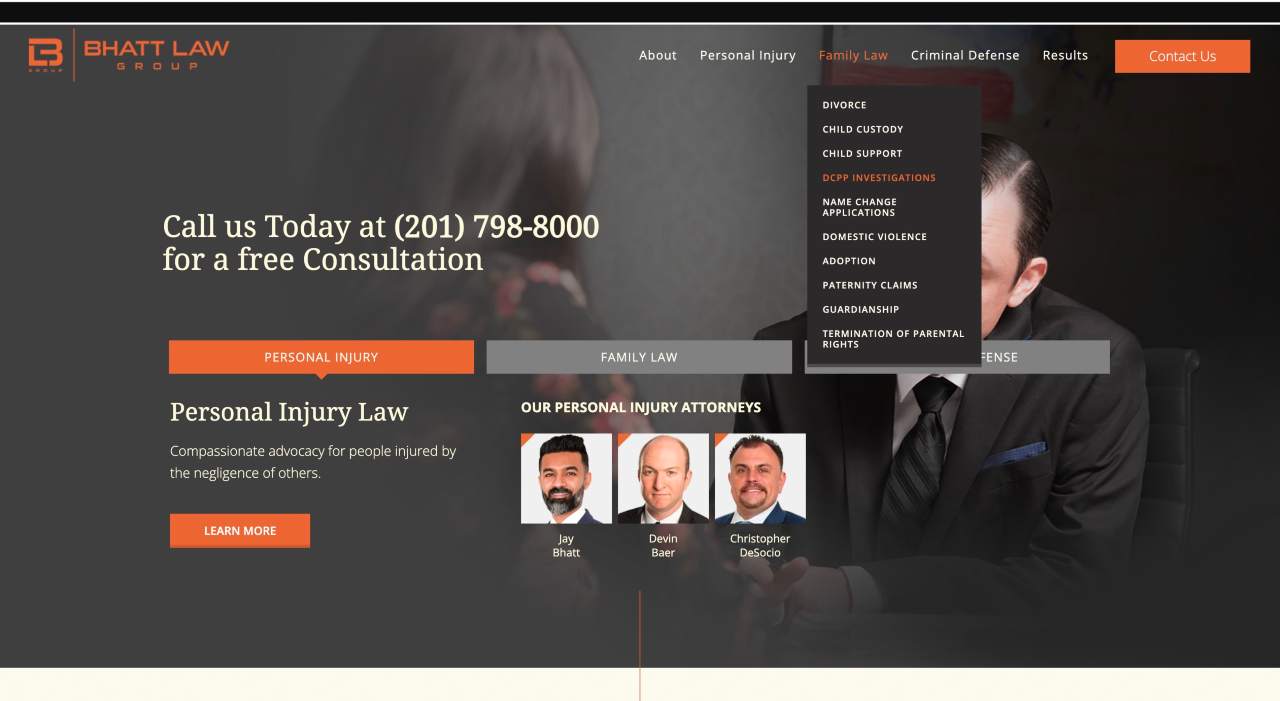 Professional photos vs stock photos.
Professional photography is essential for any law firm website. While it can be tempting to use stock photographs to save time and money, these generic images can actually be detrimental to your website. Visitors to your website will be immediately turned off by stock photographs, as they are often cheesy and unrealistic.
Instead, it is important to invest in professional photography that accurately represents your law firm. Professional photographs of your lawyer, staff, and office will create a more genuine and trustworthy impression with visitors. Not only will these photos be of higher quality, but they will also be more consistent with your overall law firm brand.
When selecting a photographer, be sure to look for someone with experience in professional photography in the legal industry. Having past experience with other law firms, they should understand the importance of capturing the best images to represent your law firm. Before starting with them, it's a good idea to ask for references and portfolio samples to ensure the photographer is a good fit for your needs.
High readability should be your priority.
It's not a secret that most of the content on the internet is in the form of text. Therefore, one of the most important things to keep in mind when designing a law firm website is a readability. Readability is the ease with which a reader can read and comprehend the content of a text or website.
When designing a website for a law firm, it's important to focus on readability. This means using fonts and spaces to create a quick and intuitive read. Smaller fonts are easier to read and don't require the reader to strain their eyes. Additionally, use bullet-points and paragraphs to create more whitespace around the word, making it easier to read. Remember that scannable content is key, so make sure that the text is organized and concise.
Readability is highly affected by the colour scheme of the website design. While bright colours can be eye-catching, they can also be distracting. Stick with simpler colours like black and white, as they are more professional and easier to read. Additionally, use images sparingly and make sure they are relevant to the content.
Make it easy for the user to take action.
When building a law firm website, it is important to leverage call to action (CTA) to attract visitors to your website. A CTA is a prompt or statement that encourages a user to take action. Properly placed CTAs can help improve website traffic, increase conversions, and build relationships with visitors.
When creating a CTA, it is important to consider the user experience. The CTA should be placed in an obvious location, such as in the header or footer of the website as well as in the middle of most pages, so that it is easily seen by the user. The CTA should also be clear and concise, providing the user with a clear indication of what action they should take. Additionally, the CTA should be relevant to the user's needs and be tailored to the content on the page.
It is also important to create a sense of urgency with your CTA. This can be done by including language such as "Contact your lawyer now" or "Looking for the best law firm?". Additionally, adding a time limit can help create a sense of urgency, such as "Sign up today and receive a free consultation for your family law case".
Considering ethical factors when promoting your law firm's website.
Ethical legal marketing requires that attorneys remain mindful of applicable laws, regulations, and ethical rules related to advertising and marketing. Before publishing any content on your law firm website, it is important to ensure that it is accurate and does not contain false or misleading claims. Additionally, attorneys must be careful to ensure that their marketing efforts do not breach attorney-client privilege or violate any copyright or trademark laws. A few things all law firms should take a note of:
Make sure that all content on the website is accurate and up to date. All facts must be verified and properly supported. Do not make any false or misleading statements.

Avoid making any claims about results achieved in past cases. It is unethical to promise any kind of outcome for a potential case.

Do not solicit clients through the website. This is a violation of the American Bar Association's Model Rules of Professional Conduct.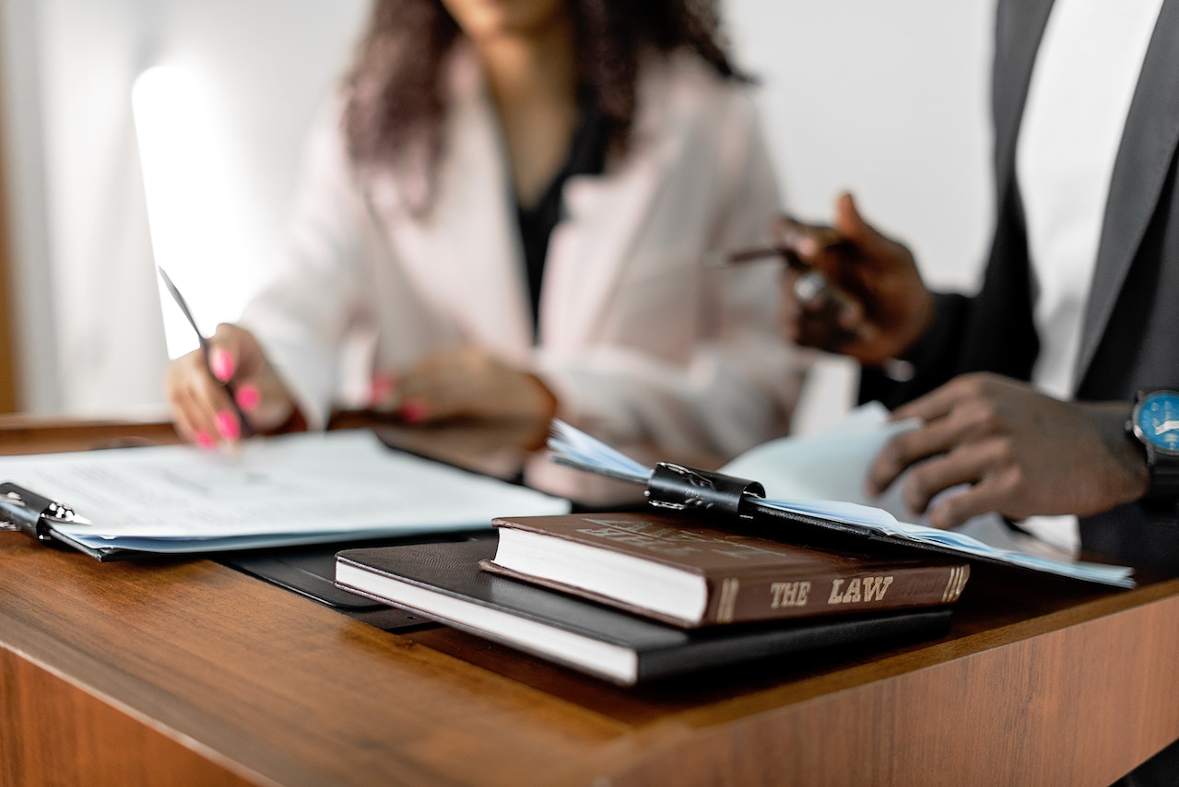 What do law firms web design companies do?
Law firm web design companies are experienced in creating legal websites that can help your firm stand out from the rest. They create websites that are tailored to the needs of your firm, taking into account the specific legal services you offer, the areas you specialize in, and the type of client you wish to attract.
These web design agencies understand the importance of providing clients with easy access to relevant information. They create sites that are easy to navigate, with an intuitive menu system, and a clear structure. This helps potential clients find the information they need quickly and easily.
The web design agencies can also create content for your site that is both informative and engaging. This content is designed to help visitors learn more about your firm and the services you offer or learn about law-related topics and tips which is often done through a blog page.
A lot of these agencies (could web design agencies or digital marketing agencies) also help you create a professional online presence. This involves creating an online profile, and creating a presence on social media such as Twitter, LinkedIn, Instagram, TikTok, etc. This allows you to interact with potential clients and build relationships with them.
Finally, law firm web design companies can help you optimize your site for SEO. They can create content that is optimized for search engine algorithms, as well as implement strategies to increase your rankings on search engine results pages. This helps you attract more visitors to your site, which can lead to more new clients.
Are you looking for one of the best law firm website design companies?
If you are a law firm or an attorney, we'll design the home page of your website completely free of charge. If you like the result, we can start your project and implement it on your actual website. By the time the project is complete, we'll make sure you see us as the best law firm website design company out there! Send us a message to get the ball rolling.
If you want to find out why you absolutely need a website if you are a law firm, check out our recent article.