How To Create a Successful Interior Design Website For Your Studio
Why is it important to have a website for your interior design studio?
In today's digital age, a website for your interior design studio is essential. It provides potential customers with an easy way to learn about your services and view your portfolio. This gives them the opportunity to get an idea of what you can do and make a decision about whether to hire you. A website also allows customers to contact you directly, allowing you to respond quickly and effectively.
A website for your interior design studio is also a great way to market your services and reach more potential customers. By having an informative website, you can showcase your work and feature the best projects you have completed. You can also use it to advertise special offers and promotions. Having a well-built interior design website can help you establish your brand and build recognition.
In the competitive world of interior design where the ability to stand out and be the best is of key importance, having a website with certain features is paramount for success. When potential customers visit a website, they are looking for it to be easy to use, visually appealing, and informative. So, what would the best website for interior design studios look like?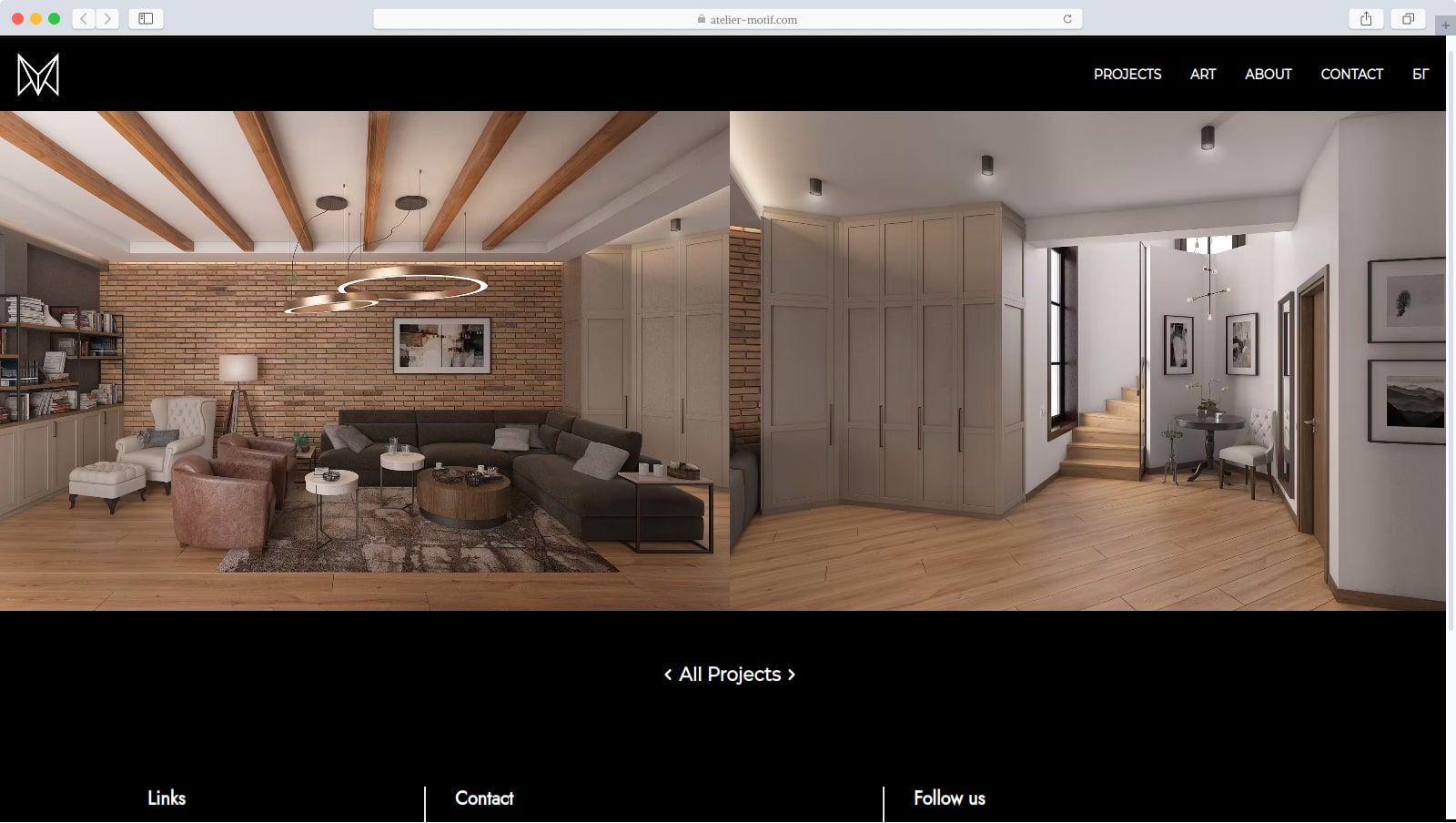 The following are the essential features that every interior design website should have in order to be successful:
1. User-friendly interface is the first and most important feature. A website should be easy to navigate, with intuitive menus and options that make it easy for visitors to find what they are looking for. Many people nowadays are surfing the web mostly using their phone. Therefore, the website should be responsive and display properly regardless of device type, whether it be a smartphone, tablet, or computer.
2. Another feature that a website should have is easy navigation. Visitors should be able to quickly locate the services provided, contact information, and portfolio pieces. A drop-down menu should be available that displays all of the different areas of the website, allowing visitors to easily find what they are looking for. They should quickly find the information they need, so adding a search bar on your interior design web page is one way to achieve that.
3. Professional design advice and tips are also important features that should be included on an interior design web page. This includes blog posts and articles written by you, the designer, or other industry professionals. These posts should offer visitors useful advice and tips on how to improve the look and feel of their home or office. Other topics to write about can be for example: "Best website for interior design", where you can write about the top designers in your area (including yourself!) and share about their website and the offered services. This will help to establish your studio as a knowledgeable and experienced business in the industry.
4. In addition to professional advice, a blog with helpful articles and tutorials should also be featured on the interior design website. These posts should offer visitors step-by-step instructions on how to complete certain tasks or projects related to interior design. This helps to show the designer's expertise and gives potential customers an idea of the quality of work they can expect from the designer.
5. Social media integration is another important feature that every interior design website should have. This allows visitors to easily share the website or portfolio pieces with their friends and family, increasing the reach of the website. Additionally, it allows the designer to engage with potential customers, answer questions, and showcase their work.
6. An interactive portfolio showcasing previous work is another essential feature of your interior design web page. This portfolio should feature high quality images and videos of the studio's work. This helps to give visitors an idea of the designer's style and allows them to get an accurate representation of the quality of work they can expect.
7. Finally, it is important that the interior design website have a way for visitors to contact the designer. This can be an email address, phone number, WhatsApp, or contact form. This allows potential customers to easily get in touch with the designer, ask questions, and discuss their interior design needs.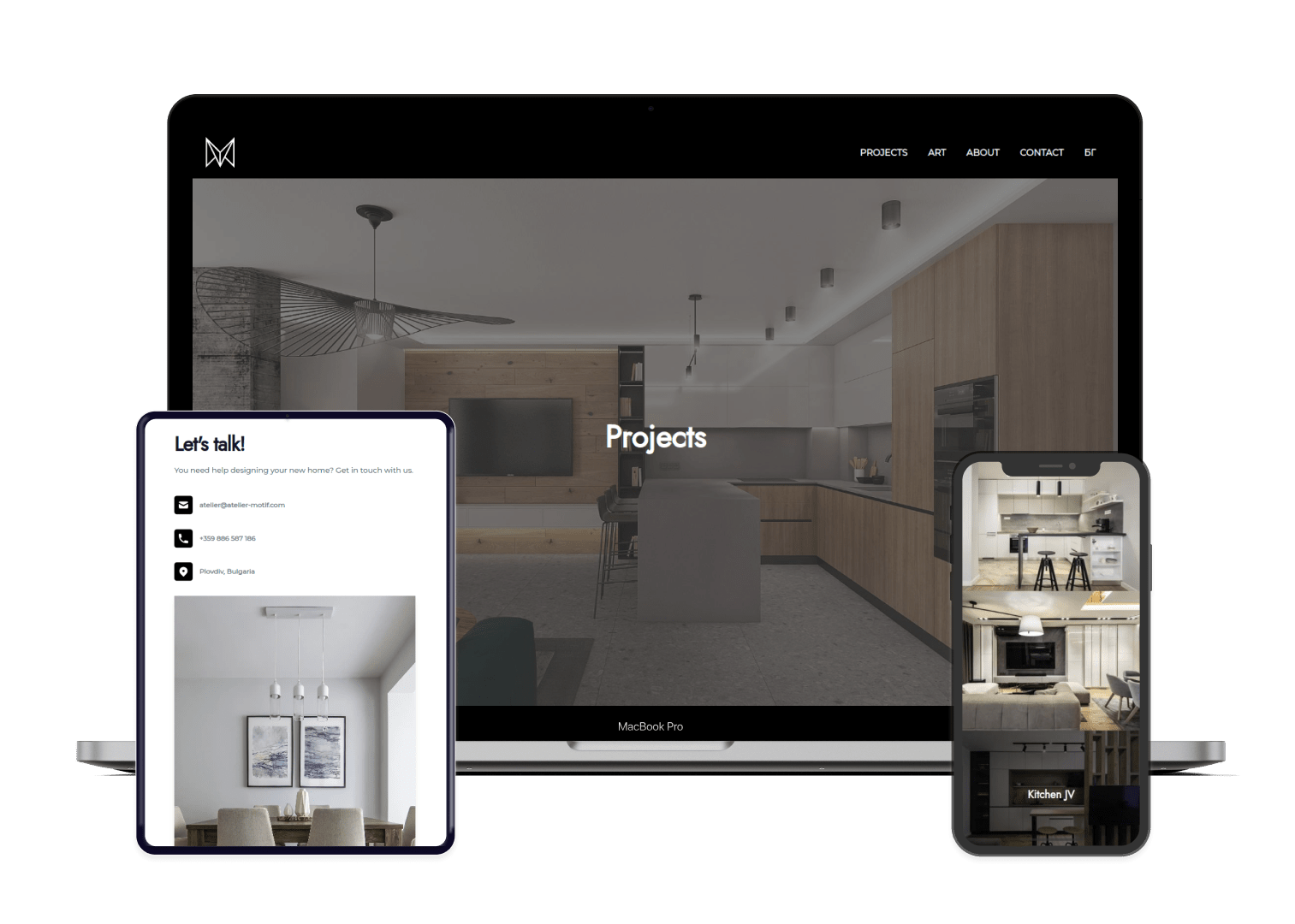 Creating a website for your interior design studio is a great way to reach more potential customers and show off your projects. Having certain features on your interior design web page is the key to success. If you are tech savvy, you can build the site yourself - you can find many templates online for interior design websites for free. Alternatively, you can hire a professional web designer for a more customized look. Either way, try to get the best website for your interior design studio - it's essential for your business' success.
You can check out the website we built for Atelier Motif - an interior design and architecture studio here.
Get in touch with us and we'll create the homepage of your interior design website for free! If you like the result, we'll implement it on your actual website.
Claim your free interior design web page here!